Pram Shops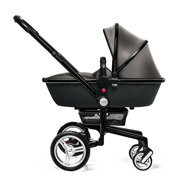 Originally known in England as Perambulators, the main form of transport for carrying young children from birth up to 3 years is now collectively known as 'prams and pushchairs'. Elaborate sprung prams were first built in the Victorian era, but these only lasted a child until they were able to sit up unaided. A smaller pushchair was then used for transport. Prams and pushchairs have now developed to the extent that they are now classed as the same thing.
The modern versions have a single chassis, with multiple different bodies that can be attached to the chassis as the child grows. These may even double as a car seat, for excursions or shopping trips. Some versions of prams and pushchairs are made in twin or triple formats, and can even be built as a model for quads.
A British aeronautical engineer called Owen Maclaren designed the first conveniently collapsible pushchair which became known as a "baby buggy". Since then modern construction methods and materials enables manufacturers of prams and pushchairs to make products that are even stronger and lighter to use. This of course makes them more convenient for busy parents with hectic and demanding life styles. Brands like Leebruss and Gesslein provide incredibly stylish buggies that are as much a lifestyle choice as anything!
FEATURED RETAILERS

The world's most famous online retailer sells an unparalleled selection of toys.
Visit Amazon Now >>

Specialist retailer of prams, pushchairs and other products for expectant mothers and children up the age of eight.
Visit Mothercare Now >>

This shop started life as a small maternity and baby wear specialist but has now has expanded into many other areas of children's and mothers supplies.
Visit JoJo Maman Bebe Now >>

This comprehensive online store sells baby products from nearly 40 manufacturers.
Visit Kiddies Kingdom Now >>