Battle Strikers Metal XS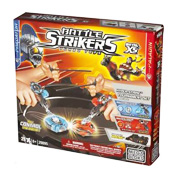 Proudly advertised as the ultimate in battling tops, Battle Strikers was an instant worldwide success for Mega Brands in 2009 for its amazing turbo speeds of up to 6300 rpm, powered up by the magnetic charge in the battery operated controllers.
When Battle Strikers Metal XS were released, kids thought they were even better than before. They still come with their extra-tough armour that emits sparks when they smash into each other - and the enhanced, slimmer Turbo Boost Launcher provides greater accuracy during battle.
The ability to customise the range has always been one of its key draws - and this has been expanded with six unique Metal XS Reload Strikers such as Asleon, Valkyria and Diablaze from the three mythical StrikerSoul teams; Paladin, Predator and Phantom.
The Battle Strikers themselves have even been enhanced to ensure that they can spin for longer thanks to their lower centre of gravity and improved magnetic control. Aimed at kids from 6 years old and upwards, the Battle Strikers Metal XS series is a big hit with kids who are looking for fun, excitement and awesome speed!
Mega Brands constant product development saw some great Battle Strikers Metal XS extensions - like revised Hyper-Strike Launcher Starter Packs and the latest Metal XS Reload Strikers with extra customisation possibilities. Top of the range Hyper Strike Tournament Set not only includes a knockout arena and two unique Metal XS Strikers, but also the newest version of the Hyper-Strike Launchers! Fast and furious action is guaranteed with these Strikers that fight and clash at more than 6000 revolutions per minute.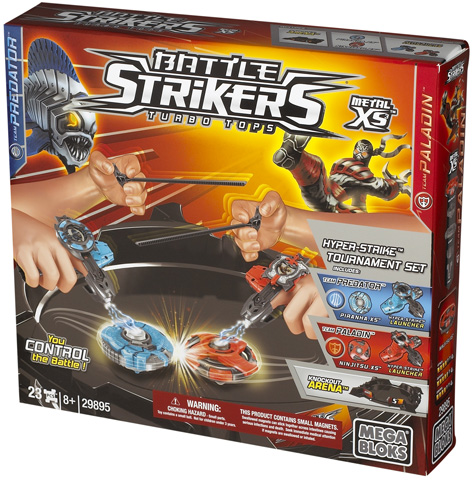 RECOMMENDED RETAILERS

Amazon
The world's most famous online retailer sells an unparalleled selection of toys.
Buy Battle Strikers Metal XS now >>