Automoblox Toy Cars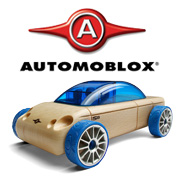 Just when everyone thought that toy cars had seen the last of any great innovations, Automoblox arrive on the scene and smash that theory to smitherines!
Designed by Patrick Calello, Automoblox cars are in a class of their own - not just in terms of looks, but build quality too. Whilst they might at first look as though they belong in a glass cabinet rather than a playroom floor, once you start playing with the interchangeable models and creating your own Automoblox toy cars there will be no looking back.
Apart from being stunning to look at and great fun to play with, Automoblox cars have the added benefit of requiring creative problem solving and the use of fine motor skills to construct them. Made from solid Birch wood and treated using a non-toxic lacquer, these toys were built to last. It's no wonder that the Automoblox website proclaims that these toy cars are set to be 'heirlooms of the future'!
HERO PRODUCTS
RECOMMENDED RETAILERS

Amazon
The world's most famous online retailer sells an unparalleled selection of toys.
Buy Automoblox cars now >>