Baby Stella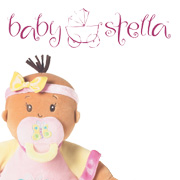 As one of the brands within the Manhattan Toy portfolio, the Baby Stella range of soft and cuddly dolls are delightful to look at, as well as being amazingly well detailed. Each one has soft fleecy hair, embroidered features on her face and lifelike toes and a tummy button. Supplied in beautiful pastel coloured outfits, Baby Stella dolls are suitable for children from 18 months old and measure 38 cm tall.
Like all good dolls, Baby Stella varieties have a huge range of accessories available to add to their play value, and apart from extra sets of clothes, little girls can also buy feeding sets, changing sets, baby carriers, high chairs and even a beautiful wooden cradle. For trips to the shops or playground, Baby Stella dolls can be transported in their very own specially built stroller which folds down just like a real buggy!
The pretty pastel outfits cover all weather conditions with warm coats and hats to a pretty lightweight outfit for warm and sunny summer days. Baby Stella dolls are a pleasure to touch and cuddle, so itís no wonder that so many are sold all over the world every year.
DISTRIBUTORS

RECOMMENDED RETAILERS

Amazon
The world's most famous online retailer sells an unparalleled selection of toys.
Buy Baby Stella dolls now >>