Bertoy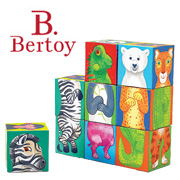 The Belgium based Bertoy company negotiated an exclusive UK distributorship for the world famous US Crocodile Creek toy brand. Probably best known for their amazing wooden puzzle blocks, these can be built into towers with matching faces or assembled flat on the floor. Pictures feature different animals, fairy castles, houses and funny faces.
Simple two piece jigsaws have many different themes whilst twelve piece shaped jigsaws offer and extra challenge to slightly older kids. Country map puzzles are highly educational whilst the 100 piece matchbox puzzles provide the ultimate challenge for 5 year olds.
The Israel based Krooom company are also represented by Bertoy in the UK. They specialise in designing and creating beautiful toys made from eco-friendly cardboard. From fairy castles to role play kitchens these toys are 100% recyclable at the end of their natural life.
Bertoy 'believes in quality toys wrapped in a premium service' for all of their European customers. By delivering direct to retail outlets they keep costs to a minimum whilst offering and excellent service.
RECOMMENDED CATEGORIES

Look for knights, princesses, farmyard animals or toy soldiers here.
Visit the Figures category >>

Find traditional stuffed animals and plush toys fitted with electronics here.
Visit the Soft category >>

Many retailers specialise in nothing other than toys made from wood.
Visit the Wooden category >>