Bertoy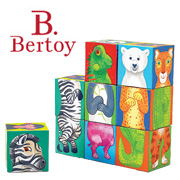 Bertoy is a Belgian company acting as an exclusive agent for quality brands. This company has already been established for over 15 years and is a family run business, particularly focused on working long term. This gives them the possibility to collaborate as real partners together with the different brands.

Firstly, the main focus lies particularly on the American brand Crocodile Creek. They work with designers and others throughout the world, using original art, to create thoughtfully designed, high quality products that are appreciated by both children and adults alike.

Secondly, Mudpuppy was the first brand Bertoy distributed back in 2008. Originally only in Europe, but since 2018 also in the UK and Ireland. Mudpuppy believes in engaging a creative life for children. They combine education and fun to create activity-based products that foster imagination and encourage free-play. Safety and commitment to the environment are part of the Mudpuppy-DNA. Many of their products have a high percentage of recycled content and most of the inks they use are plant-based.

Thirdly, Tiger Tribe is an Australian brand and mostly a creator of portable activity sets. In these times of digital overload, the Tiger Tribe gifts are exactly what parents and kids long for. Their mission? Celebrate the joy of play and go on imaginative journeys.

And lastly, Snails, the safe nail polish for children that can be removed with only soap and water! Snails is a company based in Greece, the manufacturing of the polishes is also completely European since itís made in France. For these nail polishes, no nail polish remover of any kind is required. Snails guarantees carefree childís play made chemical and toxin free. With over 50 colours and lots of accessories to choose from, options are endless!

Clearly, Bertoy "believes in quality toys wrapped in a premium service" for all of their European customers. By delivering direct to retail outlets they keep costs to a minimum whilst offering and excellent service.
RECOMMENDED CATEGORIES

Look for knights, princesses, farmyard animals or toy soldiers here.
Visit the Figures category >>

Find traditional stuffed animals and plush toys fitted with electronics here.
Visit the Soft category >>

Many retailers specialise in nothing other than toys made from wood.
Visit the Wooden category >>