Black and Decker Toys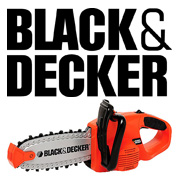 Little girls may like to help mum with washing, ironing or cleaning, but little boys are more likely to be found helping dad in the garage or workshop. As one of the UKís best known DIY tool brands, itís no wonder that boys love playing with their Black & Decker toys and copying dad doing some repair work or making a new toy box.
The popular toy maker, Smoby, holds a licence to make a whole series of Black & Decker toys that includes hammers, screwdrivers, tape measures, wood saws, electric drills and circular saws. Their Black & Decker toy jigsaw for example makes realistic sounds and even has a safe cutting action on the blade.
The circular saw has similar features and is a great addition to any junior tool box. If a few hand tools are needed a great Black & Decker toy tool bag is the answer, containing most tools required for a quick repair job to the kitchen sink or bedroom door. Watch out for more Black & Decker toys from all good toy shops.
DISTRIBUTORS
RECOMMENDED RETAILERS

Amazon
The world's most famous online retailer sells an unparalleled selection of toys.
Buy Black & Decker toys now >>