Bratz Dolls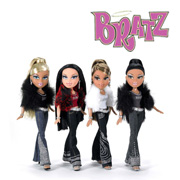 Created to compete with fashion icon Barbie, the first four Bratz dolls (Yasmin, Cloe, Jade and Sasha), were launched with mixed success in 2001. It was a different story a few years later however, when the sales of Bratz dolls gained a massive 40% share of the market for fashion dolls. With their skinny bodies and overlarge heads (which are heavily made up with lip gloss, dark eye shadow and contemporary hair styles) the Bratz dolls have everything that Barbie lacks.
They wear ultra-modern clothing which sometimes verges on the outrageous, drive fast vehicles and have sumptuous playsets. Like all superstars, the marketing for Bratz dolls has produced countless spin-off products such as books, films, CDs and their own TV series. No self-respecting Bratz doll would be seen without her Bratz Boyz friend, Bratz Petz or even the child version of Bratz Kidz.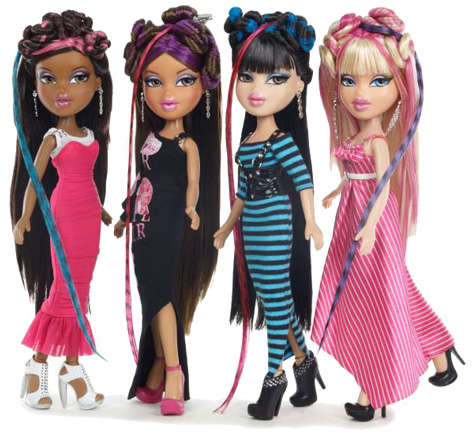 The use of the letter "Z" to replace an "S" has been a clever piece of marketing that has helped to give Bratz dolls the edgy feel and respect that modern girls feel and want. Aimed at girls of six years old and over, Bratz Catz dolls are sold with a set of accessories that help them change into outrageous 'catz'! Meanwhile, Bratz Featherageous dolls come with an amazing set of hair accessories that enable little girls to create the most fantastic hair styles. Bratz Neon Runway are ranges that take the Bratz dolls to new levels of fashion and design.
There's no doubt that Bratz are here to stay. Whilst Barbie's owners Mattel introduced many new styles, clothing and accessories to compete with Bratz, little girls love the slightly 'outrageous' look and feel of the trendy Bratz females! In 2015, MGA, the owners of the Bratz brand took the bold step to relaunch these fashion icons with a whole new look.
It was no surprise to see that Jade, Sasha, Yasmin and Cloe were retained as the lead dolls in the new ranges with the addition of a newcomer named Raya. With new fashions and accessories for all the dolls, each of the ranges has unique features such as a personalised mobile phone in the #SelfieSnaps collection.
Nearly every young girl likes to be active and keep fit so the Bratz Fierce Fitness collection appeals to all the sporty girls out there with accessories like kit bags and yoga mats. For all the winter sports lovers the Bratz #SnowKissed is just the ticket. The skiing gear includes a fashionable après ski outfit as well as a mug for hot cocoa! Different cultures are celebrated in the Study Abroad ranges. Fashions are a top priority of course with colourful outfits and hot beauty accessories.
DISTRIBUTORS

RECOMMENDED RETAILERS

Amazon
The world's most famous online retailer sells an unparalleled selection of toys.
Buy Bratz dolls now >>