Britains Farm Toys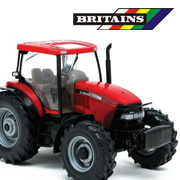 Having been created in 1893 by William Britain Jr., the toy company that bears his name – Britains - has had a succession of owners, but the brand name is as famous as ever. Best known for their extensive range of Britains farm toys and collectable die cast soldiers, the company continues to expand and invest in new models, made by machinery employing the newest technological processes. These enable great detail and paint finishes that could have only been dreamed of in the early 1900s.
Whilst Britains farm tractors, buildings, animals and other vehicles have huge competition in the marketplace, they are the brand of choice for many collectors as well as the legions of kids who eagerly await the latest Britains tractor, combine harvester, trailer or truck to be released. Some early limited edition sets of Britains soldiers are eagerly sought by collectors, and those in good condition can fetch huge sums of money at specialist auctions.

Attention to detail is very important in the die cast market, and Britains farm toys are all about making replica vehicles as detailed as possible at prices that consumers can afford. This also involves worldwide distribution as well as producing items to a constant 1/32nd scale to appeal to kids who build a collection in their play farms.
DISTRIBUTORS

RECOMMENDED RETAILERS

Amazon
The world's most famous online retailer sells an unparalleled selection of toys.
Buy Britains farm toys now >>