Deadly 60 Toys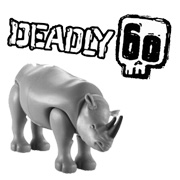 Presented by Steve Backshall, CBBC's Deadly 60 show very quickly became one of the channel's most watched programmes of 2011. Tracking Steve as he goes around the world seeking out the most dangerous and deadliest animals, kids have been fascinated by his amazing encounters with snakes, tarantulas and even sharks.
The programme caught the eye of several toy manufacturers - and whilst some people think that Deadly 60 LEGO is on its way, it's actually Character Options who have produced the construction toys to complement the show. As well as Deadly 60 building sets, Character have produced collectables and mini-figures too.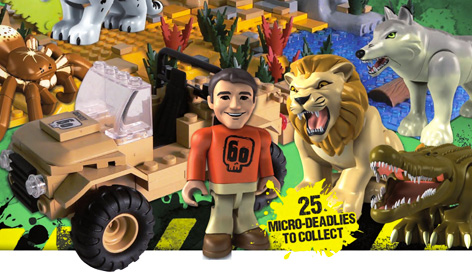 The so-called Micro-Deadlies are sold in 'blind bag' assortments, just like the mini LEGO and Playmobil figures - and contain a fascinating selection of some of the deadliest creatures that Steve has encountered. These were followed by construction playsets, action figures and some awesome role play toys and accessories.
Deadly 60 trading cards were released in oder to capitalise on the popularity of this show. Series 1 cards sold out in double quick time, and Series 2 also saw massive sales, partly due to the rarity of certain cards and the inclusion of deadly jokers!
Imagination Games also signed up to the Deadly 60 licence, with a new slant on their popular Ruckus card game. In addition, they created a Deadly 60 board game, where the winner is the first player to collect all the dangerous animal species.
DISTRIBUTORS

RECOMMENDED RETAILERS

Amazon
The world's most famous online retailer sells an unparalleled selection of toys.
Buy Deadly 60 toys now >>

eBay Toys
The 'World's Online Marketplace' offers an unprecedented selection of toys.
Buy Deadly 60 toys now >>