Dinotrux toys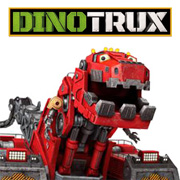 Launched by DreamWorks on the popular online Netflix TV channel, Dinotrux is a cartoon series firmly aimed at kids from 3-8 years old.
The stars of the show are Ty, a huge yet loyal T-Trux vehicle and his best friend Revvit the Reptool who provides the brains of their operation together. Billed as half dinosaur and half construction vehicles, this unlikely combination has attracted the attention of companies like Mattel who have signed the licence to create a range of Dinotrux toys.

The story revolves around Ty and Revvit's adventures when fighting off the D-Structs who are determined to destroy whole communities. Mattel have released a few sketchy details of forthcoming products by saying they are going to be large scale models of all the best characters. Allied to those toys are playsets and novelty figures so that kids can recreate all the show's best fight scenes.
DISTRIBUTORS

RECOMMENDED RETAILERS

Amazon
The world's most famous online retailer sells an unparalleled selection of toys.
Buy Dinotrux toys now >>