Ecoiffier Toys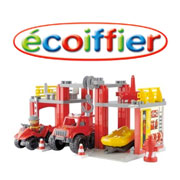 Distributed in the UK by Mookie Toys, the Ecoiffier range of toys fit into three clear categories of garden and beach toys, role play toys and a series of playsets with many different adventure themes. These include boy's favourites like fire rescue, pirates and farm as well as aircraft and trains. Similar in size and play value to Playmobil toys, these Ecoiffier sets are a big hit as a slightly cheaper alternative. If Lego is more your thing, Ecoiffier also make a series of construction sets on popular themes, as well as a series of large buckets and tubs containing larger quantities of bricks.
One of the biggest ranges of Ecoiffier toys is their stunning selection of role play toys, especially items like pretend kitchens, supermarket counters and trolleys as well as household items like ironing boards, tea sets and some very realistic looking pretend food. Most little girls and boys love following their mummy around the house and copy all the usual household chores, with Ecoiffier toy pretend kitchens being the top favourites.
When the sun comes out and the beaches, gardens and parks are full of kids playing games, you can be sure that Ecoiffier outdoor toys will be some of the most popular. Choose from pretend lawn mowers, wheelbarrows to move all the play pit sand about, as well as golf and croquet sets. A super selection of colourful Ecoiffier buckets, spades, skittles and watering cans completes their collections, with new items being added on a regular basis.
DISTRIBUTORS

RECOMMENDED RETAILERS

Amazon
The world's most famous online retailer sells an unparalleled selection of toys.
Buy Ecoiffier toys now >>