GI Joe Toys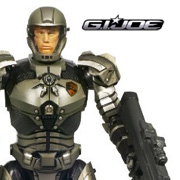 The History
The name GI Joe was first used by the giant toy company Hasbro in 1964 when they created a series of 12" military figures. These were renamed Action Man in the UK which gradually led to the generic phrase of "Action Figures" becoming widely used.
In 1982 the name was used again for the launch of the much smaller 3 ¾" military GI Joe toy figures and 2009 saw the release of new figures and vehicles based around the full-length live action feature film GI Joe: The Rise of Cobra.
The Toys
The GI Joe toy range includes figures of Ice-Viper Elite, Ripcord, Storm Shadow and Zartan. You can also track down Recondo, Scarlett and Snake Eyes. The Alpha vehicles have exciting sounding names like Cycle Armour, HISS Scout and Cobra Ice Cutter.

Fans of GI Joe toys will be thrilled to see the amazing moulding detail that features in all Hasbro figures and vehicles, and with the GI Joe licence granted for many other products, kids can purchase a whole series of GI Joe branded merchandise.
Second film "GI Joe 2: Retaliation" was released in 2013 with Bruce Willis playing a leading role as Joe Colton. Jon Chu is the director, with several other cast members returning from the first film. Other major movie stars include Channing Tatum, Dwayne Johnson and Adrianne Palicki. Hasbro worked closely with the film studio to create a range of even more exciting GI Joe toys.
RECOMMENDED RETAILERS

Amazon
The world's most famous online retailer sells an unparalleled selection of toys.
Buy GI Joe toys now >>