Gibsons Games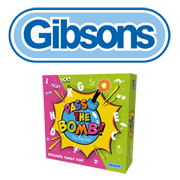 Gibsons are the UK-based, family-owned jigsaw puzzle and board game company. Founded in London in 1919, they have been entertaining generations for over 100 years and their passion is creating the best quality products for all ages.
Manufactured in the UK and Europe, their jigsaw puzzles are made from the thickest board on the market and are designed by a whole host of talented artists. The jigsaws are made from 100% recycled board and secured with tabs rather than shrink-wrap to reduce single-use plastic waste.

Gibsons also produce a range of best-selling board games that are great fun for the whole family. From quick-play games like Mind the Gap and Pass the Bomb, to family and strategy games like Hare & Tortoise, 221b Baker Street and Civilization, their best-selling board games are designed to keep all ages entertained!
RECOMMENDED RETAILERS

Amazon
The world's most famous online retailer sells an unparalleled selection of toys.
Buy Gibsons Games now >>

Inspiring Toys
A great selection of inspiring educational toys, completely free of batteries.
Read more about Inspiring Toys >>

PDK Toy Shop
The highest quality toys and games in one easy-to-use online store.
Read more about PDK Toy Shop >>

The Yorkshire Jigsaw Store
Huge choice of jigsaws with suppliers including Gibsons and Orchard Toys.
Read more about The Yorkshire Jigsaw Store >>