Gibsons Games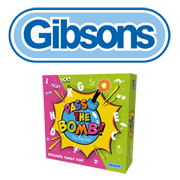 Established in 1919, Gibsons is a British, family-run company that produces a superb range of games and jigsaw puzzles. Their priority is to provide high quality products and excellent service to their customers and consumers alike.
They have over 250 puzzles in their range, which includes everything from 2-piece to 2000-piece puzzles! There are nearly 30 different themes to choose from in their extensive range, such as nostalgia, rural life, trains and wildlife, all of which have been painted by artists from all over the world.

Various accessories are available including the brilliant Puzzle Board and Puzzle Roll that allow you to assemble, carry and store your puzzle when not in use. Their Limited Edition Christmas themed jigsaws are a well-known Gibsons favourite, and collectors are always keen to try the latest version every year.
The My World range is perfect for little ones aged 18 months and up. Made in the UK from high quality recycled board, the products are not only bright and fun, but complement the National Curriculum and Early Years Goals. For the slightly older kids Spot the Sillies are ideal. Whether it's Pesky Pirates or Potty Princesses, these 100 piece XL puzzles contain numerous silly things that you wouldn't normally expect to see!
Traditional and family games is a major category for Gibsons, and includes items such as Backgammon, Mancala, Solitaire and Chess as well as family favourites such as Pass the Bomb, 221B Baker Street and Pass the Pud. Gibsons also distribute Piatnik playing cards including Bridge, Poker, Bezique and Canasta alongside some beautiful pictorial Bridge doubles.
LICENCES HELD BY GIBSONS GAMES
RECOMMENDED RETAILERS

Amazon
The world's most famous online retailer sells an unparalleled selection of toys.
Buy Gibsons Games now >>

Inspiring Toys
A great selection of inspiring educational toys, completely free of batteries.
Read more about Inspiring Toys >>

PDK Toy Shop
The highest quality toys and games in one easy-to-use online store.
Read more about PDK Toy Shop >>

The Yorkshire Jigsaw Store
Huge choice of jigsaws with suppliers including Gibsons and Orchard Toys.
Read more about The Yorkshire Jigsaw Store >>