A Girl For All Time Dolls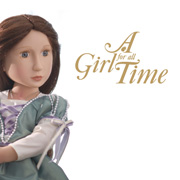 A Girl for All Time is a brand created by a London based company named Daughters of History. Their mission is to produce a series of historically-inspired and accurate dolls for older girls. Each doll in the series is not only dressed in accurate reproductions of the clothes of the era, but is also accompanied by a thrilling story book that tells an exciting tale in a specific period of English history.
A Girl For All Time founder Frances Cain says: "We have addressed the problem of age compression by creating a toy that clearly caters to the more sophisticated tastes of today's girls, with beautiful fashions, accessories, thrilling novels and customizable keepsake books that girls will treasure." Frances has enlisted the help of screenwriter Sandra Goldbacher, TV Director Pete Salmi and designer Katya Wildman to help her ensure that each doll creation is a faithfully accurate representation of the chosen period.
First doll in the series, Matilda Your Tudor Girl, was launched to rave reviews in 2011 and even won the 'Best Doll 2011' Award. The second doll in the range was Amelia Your Victorian Girl who was released the following year. Such was the success of these dolls on both sides of the Atlantic that Frances pressed ahead with her plans to release Clementine Your 1940s Girl in 2013. She was swiftly followed by Sophia Your Georgian Girl in 2014. All of these beautifully designed dolls has the same extraordinary attention to detail and are supplied in a sturdy box for safe storage when not in use. Extra accessories and outfits are available for all of these historical dolls.
HERO PRODUCTS
RECOMMENDED RETAILERS

Amazon
The world's most famous online retailer sells an unparalleled selection of toys.
Buy A Girl For All Time dolls now >>