GoGo's Crazy Bones Toys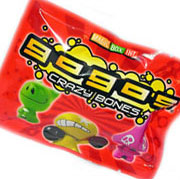 GoGo's Crazy Bones toys have bounced in and out of fashion since early 2000, but many toy shops continue to report that they are still popular among boys and girls of all ages. The toys have even become rather controversial - with some schools banning Crazy Bones because of the playground arguments that could ensue!
The small GoGo's Crazy Bones toys are inspired by a game called "Astragals" that used to be played in Ancient Greece. Back then, the characters were made of sheep's knucklebones - whereas today's choice material is, rather predictably, plastic! There are literally hundreds of different GoGo's Crazy Bones toys - and each character has a slightly different shape, face, name and way of bouncing. In addition to the standard toy figures, stickers are a popular line. Also available are the "special surprise" colours which are much more vibrant than the standard-colour Gogo's.
Bulldog Licensing announced an animated TV series to support the phenomenal success of GoGo's Crazy Bones. This show created an even greater interest in the huge number of spin-off products that include greeting cards, calendars and plush soft toys as well as kids clothing.
DISTRIBUTORS

RECOMMENDED RETAILERS

Amazon
The world's most famous online retailer sells an unparalleled selection of toys.
Buy GoGos Crazy Bones now >>