Dreamworks Home Toys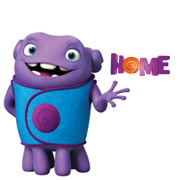 Based on a childrenís book called The True Story of Smekday by Adam Rex, Dreamworks have adapted the story line into a 3D CGI film named Home. A stunning cast of voice-over actors include Rihanna as character Tip, Steve Martin as Captain Smek, Jennifer Lopez as Lucy Tucci and Jim Parsons as Oh. Once the film was announced it didnít take long for the Giochi Preziosi group to snap up the toy licence rights.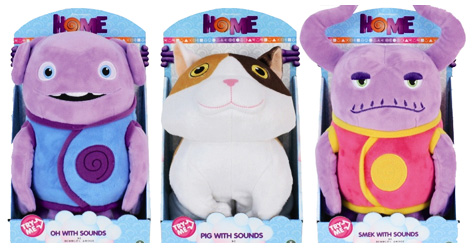 Distributed in the UK by Flair, products include a Talking Tip Doll that speaks five authentic phrases and Captain Smekís Shusher Wand that also features sounds created in the movie. As one of the most hilarious character in Home, Oh has been singled out as an animated dancing plush toy that literally dances to all the music. Heís the hero product that all the kids will want!
A selection of six smaller Home figurine characters can actually respond to heat and touch to miraculously change colour! If those toys arenít enough, kids can also collect plush toys and vinyl figures as well as a range of other role play products like dressing up outfits.
HERO PRODUCTS

DISTRIBUTORS

RECOMMENDED RETAILERS

Amazon
The world's most famous online retailer sells an unparalleled selection of toys.
Buy Home toy now >>