House of Marbles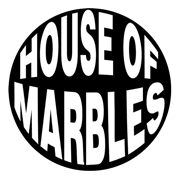 Whilst the manufacturing of a superb selection of high quality marbles is at the heart of this Devon based company, the House of Marbles also makes and sells a great collection of classic toys and traditional board games. From their base and visitor centre on the edge of Dartmoor, they dispatch orders to trade and retail customers all over the world.
Within the tantalising ranges of glass marbles, the category titles give a hint at what lies beyond; small marbles at 14mm right up to enormous marbles up to 50mm across, and everything in-between! With stripes, squiggles, bright colours, pastel colours and outrageous designs, the House of Marbles truly do make a marble for every occasion. Marble games like bagatelle, solitaire and Chinese chequers are just a few of the ever popular favourites.
Kids are really happy with a House of Marbles selection tub to start them off on a possible collectors trail; and with simple marble rolling games to keep them occupied, this traditional childrenís pastime is as relevant now as it ever has been. Customers can also buy some of House of Marbles classic kidís toys and games such as a diabolo, wooden building blocks, or the all time favourite pick-up sticks.
RECOMMENDED RETAILERS

Amazon
The world's most famous online retailer sells an unparalleled selection of toys.
Buy House of Marbles toys now >>

Silly Billy's Toy Shop
A good variety of toys and games in this lovely toy shop.
Read more about Silly Billy's Toy Shop >>

The Forgotten Toy Shop
Sells high quality traditional toys and games for the young (and young at heart).
Read more about The Forgotten Toy Shop >>