Hy-Land Outdoor Play Equipment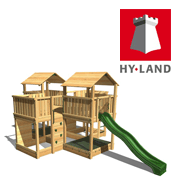 From compact towers to large, commercial playground structures, Hy-Land is a specialist supplier of outdoor play equipment that is designed to look great, function brilliantly and last for ages. Many of their wooden structures can be enjoyed by up to twelve children at a time. This makes it a perfect solution for many types of commercial settings including restaurants, schools and nurseries.
Hy-Land's outdoor play equipment conforms to the highest of European Standards and is made using heavy-duty, weather-resistant components that ensures maximum strength and durability. Despite featuring many play features including slides, ladders and look-out points, Hy-Land equipment is surprisingly easy to install and look after, mainly thanks to their ingenious modular system. A four-part owner manual is supplied to help with the set up - and logbooks are supplied to aid with regular upkeep.
Not surprisingly, the quality of Hy-Land's offerings comes at a price. Even the most basic, entry-level kit will set you back over £1000. This rises rapidly as you progress through the various play systems, up to the top of range Project 8 play system which you can see below.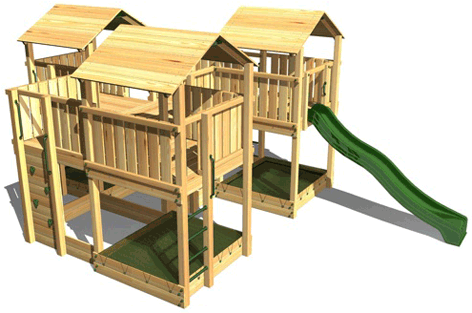 RECOMMENDED CATEGORIES

Climbing frame shops sell toys that provide durability, strength and quality.
Visit the Climbing Frames category >>
Outdoor toys and games are the perfect way to keep your kids fit and active.
Visit the Outdoor category >>

Kids love pretend play with a selection of playhouses made of plastic or wood.
Visit the Playhouses category >>

Sides are probably the most popular type of toy a child can own.
Visit the Slides category >>