Children's Playhouses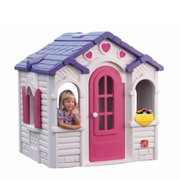 Kids everywhere love pretend play, whether it's dressing up, cooking or just having their own playhouse space in which to realise some of their dreams. Canvas wigwams with real bamboo poles were one of the first forms of children's playhouses. These could be used both indoors and outdoors and were usually accompanied by children dressing up as Cowboys and Indians. Many different shapes followed this early example, and the use of plastic poles and special moulded plastic corner pieces meant that many different shapes can be achieved.
The traditional house shape plus space ships, pirate boats or knights forts are just some examples of the ones that you can buy today. Many styles though, are now accompanied by plastic blow-moulded constructions that can be built into different themes varying in size, depending where they are to be used.
Wood is now a favourite material for making very sophisticated outdoor models which can be treated to withstand all types of weather. These can be purchased as kits to be assembled on site, but sometimes they can be custom-made to fit a certain space or even built off the ground into a mature tree. These exciting playhouses usually have a ladder or even a staircase to reach the recreation area.
FEATURED RETAILERS

The world's most famous online retailer sells an unparalleled selection of toys.
Visit Amazon Now >>
Other categories in our
Outdoor
section:
Beach Toys
,
Bubble Machines
,
Circus
,
Festival Toys
,
Gardening
,
Kites
,
Paintball Guns
,
Sandpits
,
Skateboards
,
Slides
,
Sports
,
Swings
,
Toy Guns
.
OTHER RETAILERS