Children's Sandpits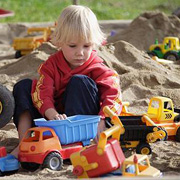 Whilst almost any of the UK's wonderful beaches are perfect as giant children's sandpits, kid's fascination with sand and water combinations has led to a huge array of garden sandpits of almost any size or shape being available through traditional toy shops or online sellers. Whether you want a small plastic sandpit that take a couple of bags of play sand, or a huge wooden version that requires an element of home assembly, there's a sandpit to suit every budget.
Little Tikes, Big, TP Activity Toys and Plum Products are just a few of the toy manufacturers that make a selection of these popular outdoor products. Large rotational moulded versions are some of the most popular. They take a lot of sand, are colour fast even in bright sunlight and most of them come with a sandpit cover to keep out pesky cats or insects when it's not in use.
Some sandpits incorporate a section for keeping water in to provide double the fun. They're great for sailing small plastic boats and ducks, or making the sand moist when sand sculptures keep collapsing as soon as they're built. Every child needs some toys to play with like buckets and spades, sand moulds, flags and rakes. Sand and water tables are great fun, and kids can stand or sit on a bench whilst they're competing to see who can make the biggest sandcastle.
FEATURED RETAILERS

The world's most famous online retailer sells an unparalleled selection of toys.
Visit Amazon Now >>
Other categories in our
Outdoor
section:
Beach Toys
,
Bubble Machines
,
Circus
,
Festival Toys
,
Gardening
,
Kites
,
Paintball Guns
,
Playhouses
,
Skateboards
,
Slides
,
Sports
,
Swings
,
Toy Guns
.