Festival Toys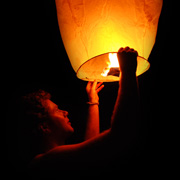 Festival toys are those that can be loosely described as those which are sold for kids at carnivals, country or rock festivals, as well as for organised parties that celebrate weddings, birthdays, christenings or some other family occasion. Whilst not strictly toys, Chinese glowing lanterns that can be lit and then released into the night sky are a relatively inexpensive way in which to celebrate a special occasion, and give great pleasure to watching children and adults.
The main festival toy products are normally classified as glow sticks, tent markers, flags, streamers and juggling equipment. These are all designed to enhance the festival, celebration or camping experience. What little boy or girl isnít thrilled when their mum or dad buys them a glow wrist band, necklace or even a pair of glowing glasses?
All of these are operated by breaking a small capsule sealed within the product, and the combination of two fluids will produce amazing glowing colours for several hours. Glow sticks are some of the most popular of these products, and are supplied in a variety of different lengths and colours. They always look most impressive when viewed from a distance on a dark night.
FEATURED RETAILERS

The world's most famous online retailer sells an unparalleled selection of toys.
Visit Amazon Now >>
Other categories in our
Outdoor
section:
Beach Toys
,
Bubble Machines
,
Circus
,
Gardening
,
Kites
,
Paintball Guns
,
Playhouses
,
Sandpits
,
Skateboards
,
Slides
,
Sports
,
Swings
,
Toy Guns
.