Gardening Toys for Kids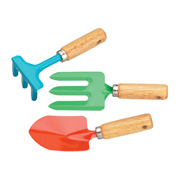 When the weather improves every spring and families can get out in the garden again, children head straight for their climbing frames, slides or swings. Itís also the time when gardening toys for kids really come into their own. By giving children their own small versions of spades, forks, hoes or brushes, kids can really get involved in weeding, planting new seeds and general tidying up after the ravages of a cold and wet winter.
One of the favourite gardening toys is the humble wheelbarrow thatís often supplied in a set with accessories like a hand trowel, fork and rake, as well as a gardening bucket and plant markers. Getting kids interested in their environment at a young age will reap dividends in the future as not only will they understand how plants grow, but more especially how food is produced. Made in a variety of materials to suit all budgets, kids gardening toys like wheelbarrows can be purchased in plastic, wood and even metal versions for ultimate durability.
Seed planting is a time of great expectation, and once kids have been involved in this process of ground preparation and sowing theyíll be so excited when their hard work of weeding and watering finally pays off, and the first green shoots start to show. Lots of toy companies make a great selection of gardening toys, and these even include craft sets for painting flower pots as well as gloves and aprons for skin and clothes protection. Another firm favourite is a pretend lawn mower for following in mum or dads tracks as they cut the grass.
FEATURED RETAILERS

The world's most famous online retailer sells an unparalleled selection of toys.
Visit Amazon Now >>
Other categories in our
Outdoor
section:
Beach Toys
,
Bubble Machines
,
Circus
,
Festival Toys
,
Kites
,
Paintball Guns
,
Playhouses
,
Sandpits
,
Skateboards
,
Slides
,
Sports
,
Swings
,
Toy Guns
.