Children's Circus Toys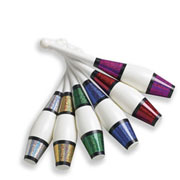 Juggling, plate spinning, unicycling and balancing are just a few of the circus and fairground skills that kids simply can't get enough of. Although many childrenís circus toys require large amounts of patience and determination to perfect, this is all part of the enjoyment and sense of accomplishment when the skill is finally cracked, and the next stage can be tackled.
Juggling a series of balls, clubs or fire sticks is arguably the most impressive circus toy act of all, and when the numbers increase from three to five, seven or even nine itís hard for the watchers to keep up with the action, let alone the juggler! Many books have been written on the subject of various circus skills, and these offer sensible practical advice for all beginners.
Devil sticks and diabolos are two more childrenís circus toys that have grown in popularity, whilst stilt walking and playing with Hacky Sacks are as popular as ever. Such is the attraction of circus toys, that companies like Lego and Playmobil make a series of construction sets and playsets based on various circus themes like tightrope walking or dancing horses. Kids can even buy jigsaws or collectable figurines all based around familiar circus skills.
FEATURED RETAILERS

The world's most famous online retailer sells an unparalleled selection of toys.
Visit Amazon Now >>
Other categories in our
Outdoor
section:
Beach Toys
,
Bubble Machines
,
Festival Toys
,
Gardening
,
Kites
,
Paintball Guns
,
Playhouses
,
Sandpits
,
Skateboards
,
Slides
,
Sports
,
Swings
,
Toy Guns
.
OTHER RETAILERS