Chidren's Swings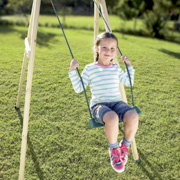 As one of the original garden toys along with climbing frames and slides, the humble children's swing can now be quite a sophisticated piece of outdoor play equipment. Whilst you can still buy a simple steel painted frame for garden use, most children's swings are either built into much larger climbing frame units, or as standalone models with provision for adding several different swing accessories so that several children can play at once.
Wood has always been a popular choice of material for swing frame construction, and with modern pressure treatments against insects or rot, the timber should last at least ten years or even longer with regular maintenance. A wide choice of accessories means that parents can choose from simple swing seats, baby seats, twizzlers, dual seat swings, trapeze rings and even rope ladders. The very youngest members of the family can enjoy an indoor swing as these feature a special baby seat that's much lower to the ground. The frame can usually be made higher as the child gets older.
Whether parents choose steel or wooden children's swings, they are an investment in play equipment which will give kids and their friends many hours of active pleasure. A number of well known manufacturers make children's swings. These include Plum Products, TP Activity Toys and Jungle Gym. They can be bought from a variety of independent retailers, garden centres and DIY stores as well as home delivery through many different internet dealers.
FEATURED RETAILERS

The world's most famous online retailer sells an unparalleled selection of toys.
Visit Amazon Now >>
Other categories in our
Outdoor
section:
Beach Toys
,
Bubble Machines
,
Circus
,
Festival Toys
,
Gardening
,
Kites
,
Paintball Guns
,
Playhouses
,
Sandpits
,
Skateboards
,
Slides
,
Sports
,
Toy Guns
.