Children's Paintball Guns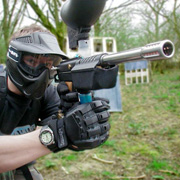 Established in the UK in 1984, paintballing is probably played more by adults than kids, although with an upsurge in organised events at dedicated venues, itís a popular party pastime for children aged 8 and over. Using water soluble paint balls, childrenís paintball guns feature a variety of sizes of ammunition clips with the larger ones being able to fire several shots in rapid succession.
If a party isnít taking place, many childrenís paintball guns are supplied with a target that can be attached to a suitable tree or fence in a garden. Others are supplied in a twin pack so that friends or siblings can still have fun firing safely at each other. Whilst a paintball can hurt if fired from very close range, the use of protective goggles and clothing is strongly recommended to keep minor injuries to a minimum.
Rules in paintball games vary, although once a combatant is hit they usually have to retire from the game until the next round. By purchasing childrenís paintball guns, parents are encouraging their kids to get outside, get active and have a lot of fun. With air or CO2 models to choose from, paintballing has never been more popular, and with many different shades to pick from, itís never been so colourful either!
FEATURED RETAILERS

The world's most famous online retailer sells an unparalleled selection of toys.
Visit Amazon Now >>
Other categories in our
Outdoor
section:
Beach Toys
,
Bubble Machines
,
Circus
,
Festival Toys
,
Gardening
,
Kites
,
Playhouses
,
Sandpits
,
Skateboards
,
Slides
,
Sports
,
Swings
,
Toy Guns
.