Italeri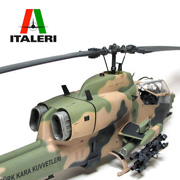 The Italeri kit ranges cover an impressive selection of aircraft, helicopters, military vehicles and miniature figures all produced in the ever popular 1/72nd scale. This constant size means that modellers can build striking dioramas that can also include a selection of buildings and scenery. Many modern fighter jets are also popular subjects including the latest and fastest jets from the USA, Europe and Russia.
Italeri have built an excellent reputation as model makers of a huge range of 1/35th scale trucks that cover almost every manufacturer – Daf, Scania, Volvo, Mercedes Benz, Peterbilt and Man – these large scale Italeri models are impressive looking due to their sheer size and detail. Modellers often like to display their finished products in a display case and Italeri can supply these in several different sizes.
Other Italeri kits include ships, cars and bikes, and the company is rightly proud of its detailed research before a new model or variation is sanctioned for manufacturing. Attention to detail is important, not just for historical accuracy, but to ensure that the eventual customer can build a realistic model kit. Investment in the latest technology for mould making and manufacturing will ensure that Italeri models are always some of the best available.
RECOMMENDED RETAILERS

Amazon
The world's most famous online retailer sells an unparalleled selection of toys.
Buy Italeri models now >>

Relish Models
A comprehensive range of over 600 items of plastic model kits and accessories.
Read more about Relish Models >>