Kazoops Toys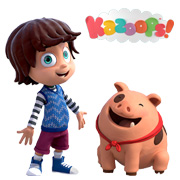 The Kazoops show on CBeebies is one of their most popular programmes for pre-school kids. The star of the show is a chirpy little 6 year old boy called Monty Kazoop. He lives with Mum, Dad and the rest of his siblings. His best friend is a pet pig called Jimmy Jones who shares in all his imaginary adventures.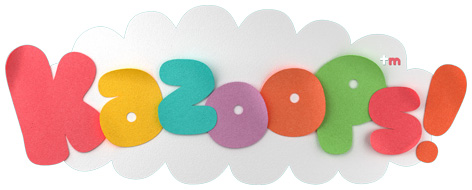 Tomy won the bidding rights to create all the shows characters and vehicles in a stunning range of toys. Mark Foster, executive vice president of Tomy Europe, commented: "We at Tomy are delighted to be chosen as the master toy partner for this terrific property. As soon as we saw Kazoops we knew it was the perfect fit for us."
As well as Monty and Jimmy, other characters include Zapper The Robot, Susie the Velociraptor, Betty the Yeti, Lily the Alien, Otis the Warthog and many more! The toy ranges include small collectable figurines, soft toys and of course a selection of Monty's vehicles. He rides a Motorbike, captains a Submarine and even pilots an Aeroplane and Spaceship as he travels all around the world.
DISTRIBUTORS

RECOMMENDED RETAILERS

Amazon
The world's most famous online retailer sells an unparalleled selection of toys.
Buy Kazoops toys now >>