Lilliputiens Toys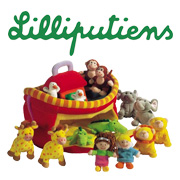 Well known as designers and suppliers of 'wonder' toys, Lilliputiens are based in Belgium and their toys are distributed in the UK and Ireland by Stepping Stones marketing.
From Dancing Ophelia and Basil Actimonkey to Musical Humps Ball or Safari Bowling Pins, the innovative and sometimes quirky designs are loved by children aged 0-4, and their parents, all over the world.
By using a variety of soft materials and a large number of different colours, noises and shapes, Lilliputiens toys engender trust and warmth in all the kids that play with them. Many of the toys can be machine washed, although individual labels on every toy give precise cleaning instructions. Designed to stimulate motor skills and encourage role play, every toy is designed to adapt as the child gets older.

Lilliputiens Arnold range is a friendly looking character that appears on a selection of backpacks, satchels, umbrellas and pencil bags. Toy storage baskets, playpen sets, and tactile play books are just a few more categories in Lilliputiens expanding ranges.
RECOMMENDED RETAILERS

Amazon
The world's most famous online retailer sells an unparalleled selection of toys.
Buy Lilliputiens toys now >>

The Toadstool
An online toy shop selling mainly European toy brands such as Haba, Janod and Lilliputiens.
Read more about The Toadstool >>