Mamas & Papas Nursery Products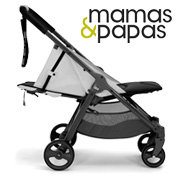 Starting life in Italy as a manufacturer of modern prams and pushchairs with trendy fabrics and designs, Mamas & Papas is now a global company thatís involved in the manufacturing and supply of an enormous selection of nursery goods. Pushchairs are still an important part of Mamas & Papas nursery equipment ranges that also extends to almost everything a young family could need for their very young children.

If customers are looking for car seats, baby carriers, nursery furniture & decorations, cradles, swings or even baby clothes, they need look no further than Mamas & Papas nursery equipment collections. Expectant mums will be thrilled with the choice of maternity clothes that include specially designed jeans, trousers, tops, knitwear and swimwear, as well as a selection of lingerie. The Mamas & Papas baby clothes include complete outfits, pram suits, hats, socks, shoes and so much more!
Toys play an important part in the development of young children, and Mamas & Papas have recognised this by making playmats, rocking animals, musical toys, soft toys including bears and dolls, as well as a range of battery operated ride on vehicles suitable for use by slightly older children. Mamas & Papas nursery equipment is popular and reliable, and is the first choice for thousands of families all over the world.
DISTRIBUTORS

RECOMMENDED RETAILERS

Amazon
The world's most famous online retailer sells an unparalleled selection of toys.
Buy Mamas & Papas products now >>