Matchbox Toys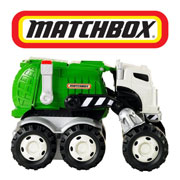 Like so many iconic British brands, Matchbox has a fascinating history that accompanies its formative years that began in the 1950s. Jack Odell, one of the co-owners of the Lesney Company, made a small version of one of the firmís toy road rollers that could literally fit in a matchbox – his daughter had been told she could only bring toys to school that would fit inside a box of this size. This model then became the first one of the famous 1-75 series of Matchbox toys, with a cement mixer and a dump truck completing the first three. Needless to say, early examples of these first models can command very high prices at specialist auctions.
Expansion inevitably followed into many different scales and subject matters until the company went bankrupt in 1982. Much of the Matchbox toys tooling was sold and most products were then produced in the Far East. Fortunately the name lives on in the ownership of the mighty Mattel company, who have managed to sell and develop the line alongside their own Hot Wheels brand. Probably its most famous product was the replica model of Queen Elizabeth IIís Coronation Coach. This sold over one million examples, which was an extraordinary number for this particular era.
DISTRIBUTORS

RECOMMENDED RETAILERS

Amazon
The world's most famous online retailer sells an unparalleled selection of toys.
Buy Matchbox toys now >>