Me To You Toys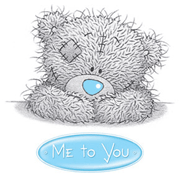 Created by Carte Blanche Greetings, Me To You is a combination brand especially created for the toy industry. By uniting Tatty Teddy and My Blue Nose Friends under this one banner, the initial soft toys by Carte Blanche were both gorgeous and appealing in their design and looks.
The brand also had a series of other toys created by well respected toy company Flair. Launched in Autumn 2012, Flair applied their considerable expertise in designing a series of products that are both creative and fun.
Toys and gifts in the Me To You ranges include bead sets, decorating kits, message makers and gel based stickers. Lindsay Hardy from Flair said: "Flair is delighted to be working with Carte Blanche on these two properties. The core messages of friendship will translate beautifully into creative play products which girls will love."
Both Tatty Teddy and My Blue Nose Friends have successful ranges of plush soft toys and partyware, as well as sweets and gifts. Toy maker Worlds Apart are also worked on some collectable Me To You toys that were also launched in 2012. Ravensburger applied their considerable puzzle making skills to release a series of Me To You jigsaws, and other makers sold stationery sets, sketch books, stickers and greetings cards.
DISTRIBUTORS
RECOMMENDED RETAILERS

Amazon
The world's most famous online retailer sells an unparalleled selection of toys.
Buy Me To You toys now >>

Dragon Toys
A teddy bear & soft toy shop selling quality brands.
Read more about Dragon Toys >>

Junior Bambinos
Junior Bambinos is an online baby and toddler store selling a wide range of children's wooden toys, furniture and gifts.
Read more about Junior Bambinos >>

Me to You Online
The largest specialist retailer of the adorable Tatty Teddy ranges in the UK.
Read more about Me to You Online >>