Worlds Apart Toys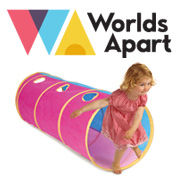 Starting life as a small factory in Cornwall producing a superb range of innovative kite designs, Worlds Apart have blossomed into a company that produces ranges of kids home furnishings, popular ReadyBeds, Pop and Play products as well as Go Glow toys and comforters.
The ReadyBed range is described as 'A great sleep solution...' and with their easy to inflate inner and soft outer covering, they're an ideal solution for sleepovers or visits to other family members. Customers can choose from ReadyBeds ideal for young toddlers right up to tweens, and in dozens of different branded styles. Worlds Apart furniture solutions include beds, desks and toy chests as well as tables and chairs all decorated in the kids favourite characters.

The Worlds Apart Dreamtown selection of pop n fun play houses and storage solutions is supplemented by other items of kids furniture. Kids also love the Worlds Apart Go Glow selection of bedtime products, each providing some reassuring night time light. The addition of the TECH4Kids lighting products to Worlds Apart portfolio supplements this range. With an impressive selection of brands like Spiderman, Angry Birds and Power Ranges, kids favourite characters have never looked so good or bright.
LICENCES HELD BY WORLDS APART
RECOMMENDED RETAILERS

Amazon
The world's most famous online retailer sells an unparalleled selection of toys.
Buy Worlds Apart toys now >>