Fireman Sam Toys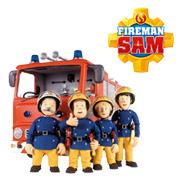 Fireman Sam is a traditional "next door hero" - always on hand to help whenever there is a sign of trouble! Not surprisingly, Sams big red fire engine called Jupiter is the basis for many of the Fireman Sam toys that are available - although there is also a terrific selection of soft toys and dolls of the other main characters such as Elvis Cridlington and Station Officer Steele. Sam's character also makes him perfect for role play fun - and for this reason there are plenty of Fireman Sam dressing up outfits available.
Fireman Sam has appeared on our TV screens since 1986 and shows no sign of losing any of his popularity. Although he is no longer on CBeebies, the brand is as strong as ever - and new Fireman Sam toys seem to always be released. We particularly like the range of outdoor products - most of which, not suprisingly, involve water!
The Fireman Sam role-play toys are also particularly good. Everything from walkie-talkies to dressing up costumes to a Fireman Sam helmet with sounds is available. Check out the shops below to buy Fireman Sam toys from recommended UK retailers.
DISTRIBUTORS
RECOMMENDED RETAILERS

Amazon
The world's most famous online retailer sells an unparalleled selection of toys.
Buy Fireman Sam toys now >>

Argos
The original catalogue shop now sells a huge range of toys at great prices.
Buy Fireman Sam toys now >>

Kiddimax Character Toys
A UK-based website that sells character toys and other character-based products.
Read more about Kiddimax Character Toys >>

Poundtoy
Online sales of top quality branded toysa and games from Hasbro, Lego and Tomy.
Read more about Poundtoy >>