Character Options Toys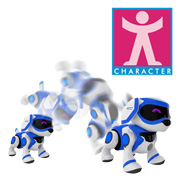 Founded in 1991, the Character Group is best known for its ranges of popular licensed toys. With offices in London and Manchester, as well as in China and Hong Kong, the Character Group exports its products to hundreds of companies around the world, and is listed on the AIM stock market in London.
Rapidly changing opportunities means that Character Options (as it's sometimes known) is constantly signing new toy licenses, as well as designing and producing its own ranges of toys and arts & crafts products. The company is probably best known as selling the 'must have' product of Christmas 2009. Known as Zhu Zhu Pets, they were previously called Go Go Hamsters.
Peppa Pig is one of the most popular children's programmes on TV, and Character have created a superb selection of individual Peppa toys as well as playsets and Peppa versions of Weebles. Scooby Doo is another annual favourite that's supported by some excellent action figures, vehicles and accessories.
The Teksta collection of electronic and interactive pets goes from strength to strength and the company invests heavily in new products every year. The range includes Dalmation Puppy, Kitty, Newborns, T-Rex and the fearsome Scorpion.
Other licences include Doctor Who, Minecraft, Postman Pat, Chill Factor and Ugglys Pet Shop. With the Clangers back on TV for the first time since the mid 1970s, Character Options seized the opportunity to create a wonderful collection of toys and playsets based on the series. Nostalgia is running high for collectors of these weird and wonderful whistling creatures.
HERO PRODUCTS
LICENCES HELD BY CHARACTER OPTIONS
RECOMMENDED RETAILERS

Amazon
The world's most famous online retailer sells an unparalleled selection of toys.
Buy Character Options toys now >>

Poundtoy
Online sales of top quality branded toysa and games from Hasbro, Lego and Tomy.
Read more about Poundtoy >>