Beados Super Studio
No customer reviews yet. Be the first.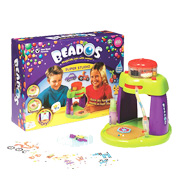 Described by Character Options as one of their 'hero products', Beados Super Studio is supplied with 500 magic coloured beads to start children off. They simply place them in the order and colours they want on the supplied template, and one squirt of water from the overhead sprayer joins them altogether. Magic!
Several accessories are included in the Super Studio so that kids can customise their works of art. Extra packs of themed beads are also available and include sets named Mermaid Castle, Ballet Recital, Ice Cream Treats and Puppies Kennel.
Children can even make 3D models with their Beados Super Studio set by building up layers of the magic beads, and thus create almost any shape or design they want. This is a great activity for promoting creativity and also helps with dexterity and colour recognition.