Teksta Kitty
No customer reviews yet. Be the first.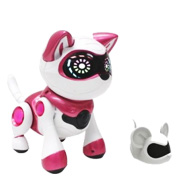 Not content with winning the prestigious 2013 Toy of The Year award for their Teksta robotic puppy, Character Options continue to innovate and develop new products like Teksta Kitty. Whilst this cute little pet pussy cat can be incredibly affectionate, she's also partial to showing off her special trick of catching the occasional mouse!
Children use hand movements and gestures to control Teksta Kitty who can purr and meow almost as well as a real kitten. In addition, she can move her ears from side to side and bend her tail to show pleasure or unhappiness. Like her older friend, Teksta Kitty has amazing electronic eyes that let you know how she is feeling through a range of expressive movements and colours.
Other models in the range include the ferocious Teksta T-Rex and the gorgeous Teksta Dalmation Puppy.
RECOMMENDED RETAILERS

Amazon
The world's most famous online retailer sells an unparalleled selection of toys.
Buy Teksta Kitty now >>