Toy of the Year Awards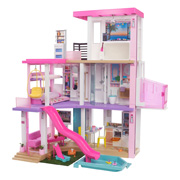 The 2016 Toy of the Year award went to Hatchimals by Spin Master

Even as Spin Master were launching the Hatchimals range in early 2016, industry insiders were tipping it for the top crown at the end of season Toy Awards ceremony. Sure enough it won the premier accolade and scooped the prestiguous Toy of The Year Award beating all other products.
About
Ever since 1965, an annual dinner and presentation ceremony, (organised by the Toy Retailers Association and coinciding with the London Toy Fair), has been the top event for the Toy of the Year Awards.
A potential shortlist of toys is always announced at the Dream Toys event which typically takes place in October each year. Many of these toys will go on and win category prizes at the Toy of The Year Awards, but occasionally there are some interesting surprises.
Previous winners include:
2015: Pie Face Game (Hasbro)
2014: Disney's Frozen Snow Glow Elsa Doll (Jakks Pacific)
2013:Teksta (Character Options)
2012: Furby (Hasbro)
2011: Leappad Explorer (LeapFrog)
2010: Jet Pack Buzz Lightyear (Mattel)
2009: Zhu Zhu Hamsters (Character Options)
Other household-name favourites to have won the coveted award include Action Man (1966), Mastermind (1973), Rubik's Cube (1980) and Teletubbies (1997).
Not to be confused with Dream Toys or Toy of the Year, several major toy retailers always predict what they think will be the top-selling toys each Christmas. See our top toys for Christmas page for more details.