Adorable Shnooks Toys
(1 review)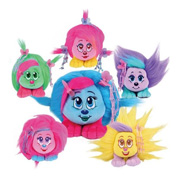 Distributed in the UK by Character Options, Shnooks toys have an amazing feature... fluffy growing hair! Once released from the special vacuum pack, each Shnook's hair will grow up to eight times its original length and can then be styled using the supplied brush and hair accessories.

There's a family of six different Shnooks toys for little girls to collect, each of which comes with a special clip for connecting them altogether. Each Shnook has its own facial personality and different hair colour. Kids can choose from:
• Fershnizzle (Pink and yellow)
• Nookoo (Blue and pink)
• Shazzabam (Blue and pink)
• Tweeki (Pink and blue)
• Woogir (Blue and green)
• Yengo (Yellow and blue)
With big heads, big feet and no body, Shnooks are really wacky characters that grab girl's imaginations as they watch the hair grow and then have fun re-styling it over and over again. Fans of Shnooks toys may also like Flufflings!

RECOMMENDED RETAILERS

Amazon
The world's most famous online retailer sells an unparalleled selection of toys.
Buy the Shnooks now >>