Moshi Monsters Toys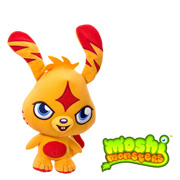 Regularly played online by more than 20 million kids in over 150 countries, Moshi Monsters is the web equivalent of Tamagotchi – only bigger and better! By adopting their own pet monster, kids can interact with it, play games, solve educational puzzles, customise their pets home, and much more! Thanks to the efforts of Vivid, children can play with Moshi Monster toys too.
The toys that Vivid have created to tie in with this massive web phenomenon feature much-loved characters such as Zommer, Diavlo, Katsuma, Furi, Luvli and Poppet. As well as some funky collectable figurines and backpack buddies (which are designed to clip to a child's rucksack or school bag) there are plenty of soft, plush Moshi Monsters toys too.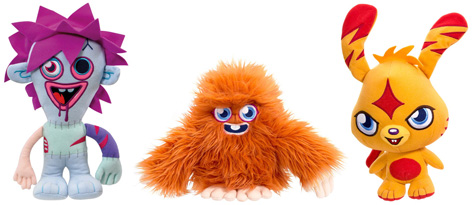 We particularly like the talking Monsters because although at first glance they look a little scary, once you cuddle up to them and give their tummy a gentle squeeze they'll soon be letting out plenty of giggles and laughs! Each one comes with a personal adoption certification and a secret code which unlocks a special in-game item.
We think Vivid are brilliantly on-trend with this range of toys. The fact that the physical toys can add value to the gaming aspect of the brand is very similar to what Jakks Pacific did with their Kinectimals soft toys. Similarly, the fact that a small selection of the collectable Moshi Monster figurines are extra-rare ties in brilliantly with the current love of playground collectables (such as Morbs, Zoobles and Squinkies) that are being marketed by dozens of toy companies at the moment.
The Moshi Monster toys that are already available are just the start of a huge range of licenced products that are set to be released all over the world. Other firms signed up to the Moshi licence include Penguin Books, Topps, Danilo, GB Eye and Winning Moves. Worlds Apart also launched a selection of Moshi ReadyBeds and Flip Out Sofas. With mobile phone alerts and collectable Moshi wrist bands also readily available, there is little doubt that we're looking at a truly MONSTER craze happening!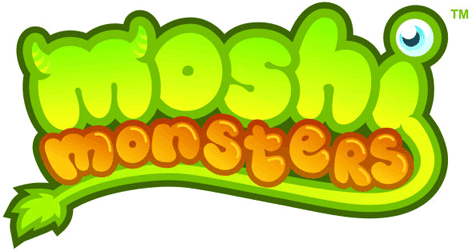 HERO PRODUCTS
DISTRIBUTORS
RECOMMENDED RETAILERS

Amazon
The world's most famous online retailer sells an unparalleled selection of toys.
Buy Moshi Monsters toys now >>

Argos
The original catalogue shop now sells a huge range of toys at great prices.
Buy Moshi Monsters toys now >>