Zoobles Toys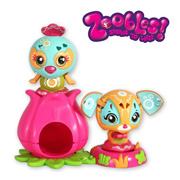 School playgrounds are full of kids swapping and playing with their amazing Zoobles. With hundreds of different ones to collect, Zoobles took the UK's girls by storm in 2011. Available singly or in twin packs (known as Twobles) they can also be purchased in special sets that feature extra-rare characters.
There are three different Zoobles worlds - Petagonia, Seagonia and Azoozia. Each one has a separate group of Zoobles toys to collect and some are much rarer than others. The magical transformation of small balls into quirky and mischievous Zoobles is just amazing. With many different playsets and habitats available, kids love nothing more than building up their collection.

Petagonia is a wondrous land of countryside, streams, bridges and trees - Doxy, Olivier and Zeke are just three of the hundreds of characters available in this series. As its name suggests, Seagonia is an underwater world with rocks, coral and fishes. Estelle and Pepper live here along with all of their Zoobles friends. Meanwhile, Azoozia is a tropical land with huge trees, cascading waterfalls and full of fruit and flowers – and full of Zoobles toy animals. Names like Panderson and Jaffa give you an idea of what they look like!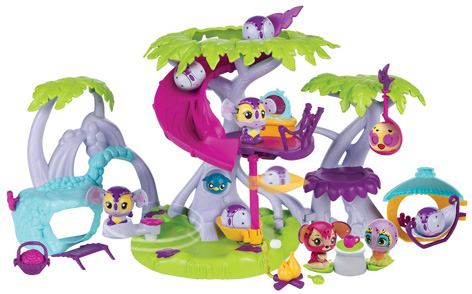 Zoobles are available in single packs as well as the Twobles. There are also lots of different playsets and carrying bags to buy. Using the same technology as the boy's Bakugan characters, little girls will love their Zoobles, especially when they can swap duplicates with their friends.
Constant introduction of new themes within the Zoobles world saw simultaneous launches of the Cloud Cove and Coralloo themes. These were also joined by Linkooble Happitats which can be joined together to create an interlocking series of playsets.
DISTRIBUTORS

RECOMMENDED RETAILERS

Amazon
The world's most famous online retailer sells an unparalleled selection of toys.
Buy Zoobles toys now >>