Talking Moshi Monsters
No customer reviews yet. Be the first.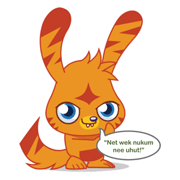 What fan of Moshi Monsters doesn't want to play with their very own talking Moshi Monster! Now they can with the ongoing releases of several different characters such as Zommer, Diavlo, Katsuma, Furi, Luvli and Poppet. Kids just have to press the hidden button in each Monsters tummy to get them talking!
These adorable Moshi Monsters look just like their on-screen characters and even include an official adoption certificate plus a secret code to unlock some free website games. Talking Moshi Monsters are the perfect companion when kids are playing Moshi games, or just want to take them to bed for a cuddle.
Watch out for more collectable Talking Moshi Monsters in future releases.
RECOMMENDED RETAILERS

Amazon
The world's most famous online retailer sells an unparalleled selection of toys.
Buy the Talking Moshi Monsters now >>