Teletubbies Toys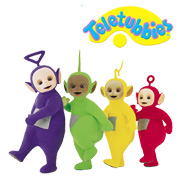 Whilst Teletubbies attracted a fair amount of criticism when first launched in 1997, the target children audience adored the series and couldn't get enough of the four colourful characters. Parents couldn't understand the unintelligible gibberish that the green, purple, red and yellow characters uttered, and thought that their kid's education would be ruined forever.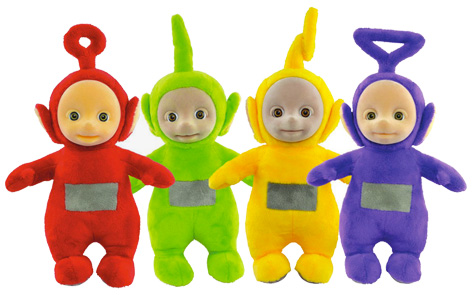 It didn't take long however, before toy shops were besieged by parents who were anxious to get hold of Tinky Winky, La-La, Po and Dipsy soft toys. Strict rationing often had to be put in place with customers limited to just one purchase at a time. Golden Bear, the original toy licensee, just couldn't make enough to satisfy initial demand.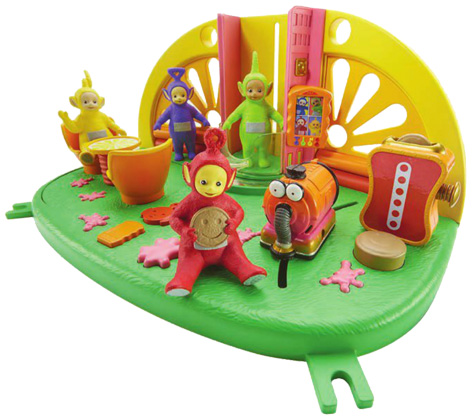 CBeebies aired 365 Teletubbies episodes until production ended in 2001. The show ran on however, with repeats being shown on a regular basis over the next few years. The soft toys are still in big demand, along with jigsaws, games and dressing up outfits that are sold in substantial numbers every year. Models of Noo-Noo, the housekeeper and guardian of the Teletubbies house are also popular purchases.

In 2014 the BBC commissioned a new set of 60 Teletubbies episodes using the newest CGI effects to supplement the live actors. Cleverly, the Beeb have also employed several well-known British celebrities to take starring voice over roles in the series. Already named are Jane Horrocks who takes the voice of the Tubby Phone as well as Fearne Cotton and Jim Broadbent who both become the voices of the Voice Trumpets. Daniel Rigby narrates the show whilst Antonia Thomas narrates the opening and closing words of each show.
New soft toys, vinyl collectable figures and playsets make their way onto retailer's shelves in celebration of this popular reincarnation of a favourite TV series. At the same time, Character Options were appointed the new global master partner for Teletubby toys. Their expertise in producing interactive and appealing products at affordable price points bodes well for some enchanting new toys.
US based company Spin Master inked a deal to distribute Character's Teletubbies toys in the US and Canada, whilst the Simba Dickie Group gained the disribution rights for Germany and other European countries.
DISTRIBUTORS
RECOMMENDED RETAILERS

Amazon
The world's most famous online retailer sells an unparalleled selection of toys.
Buy Teletubbies toys now >>