Star Wars Toys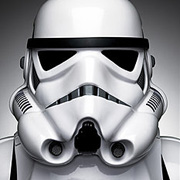 Itís hard to think of another toy brand with such continuous popularity as Star Wars. The first (or more accurately fourth) film in this outstanding series was released in 1977, and the whole series of six films has produced a staggeringly huge number of Star Wars toys spanning three decades. Original toy figures of characters from the early films can command hundreds of pounds at auction if still sealed in their packets. Sadly though, most aren't!
Whether your favourite character is Luke Skywalker, Darth Vader, The Emperor or Yoda, the most impressive Star Wars toy has to be the Light Saber which is used to such devastating effect in so many film scenes. Modern technology has enabled accurate sound and light effects to be programmed into the newest versions, which are bought by avid collectors. Lego have produced one of the most successful ranges of Star Wars toys and have made sets that cover almost all of the most popular space ships, figures and creatures.
Many companies have bought into the Star Wars licence, and make high quality models of vehicles, figures and accessories which feature in all the films. Beyond the Star Wars toys however are many other items such as books, clothing, music, tableware, computer games and even kids bedding. Whatever Star Wars toy you choose, may the force be with you!
In October 2012, Star Wars fans were stunned and elated when it was announced that Walt Disney had purchased LucasFilm, the owners and creators of one of cinema's most popular and long lived franchises. A seventh episode of the Star Wars saga is promised by Disney, with an expected launch date in 2015. Episodes 8 and 9 are also planned, with a mix of old and new characters.
HERO PRODUCTS
DISTRIBUTORS
RECOMMENDED RETAILERS

Amazon
The world's most famous online retailer sells an unparalleled selection of toys.
Buy Star Wars toys now >>

Argos
The original catalogue shop now sells a huge range of toys at great prices.
Buy Star Wars toys now >>

Giddy Goat Toys
A traditional independent toy shop with online sales of toys from popular brands.
Read more about Giddy Goat Toys >>

Jumangee Shop
A family-run business located in Greenwich.
Read more about Jumangee Shop >>

Melton Toys
Independently owned Toymaster store based in the historic market town of Melton Mowbray.
Read more about Melton Toys >>

Silly Billy's Toy Shop
A good variety of toys and games in this lovely toy shop.
Read more about Silly Billy's Toy Shop >>