Bluw Toys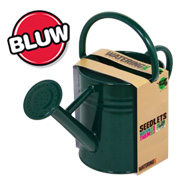 Bluw Toys are at the forefront of creative designs for funky gifts and toys that are sold in a huge variety of retailers throughout the UK. Their products inflatables, wind-up toys, gadgets, novelty items and plenty of toys and games, all with an interesting twist or design.
Egg Bods are a great example of this innovative approach by Bluw Toys to bring fresh ideas to the toy marketplace. With their egg-shaped bodies, swappable arms and accessories, and a wacky clockwork-walking mechanism, these collectable characters are sure fire playground hits!
For kids and young adults that love dressing up and role play, nothing could be more fun than Bluw's range of inflatable head gear known as Air Hedz. Featuring some of the wildest and wackiest designs you've ever seen, kids can wear over-sized inflatable cowboy hats, nurse's headwear or even an upside down melting ice cream cone! Each one also comes with an accessory to complete the image.
Kids who want footwear with a weird twist can opt for Bluw's Silly Socks. These come in dozens of different designs for both girls and boys. Choose from a selection that includes ballet pumps, tiger feet, crocodile feet or even grandpa slippers.
LICENCES HELD BY BLUW
RECOMMENDED CATEGORIES

Toys stored in your attic may be valuable and collectable products.
Visit the Collectable category >>

Toy shops have large sections devoted to low-value pocket money toys.
Visit the Pocket Money category >>