National Geographic Toys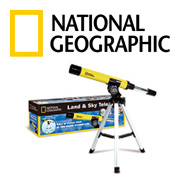 The National Geographic Society was founded in 1888 to inspire people to care about their planet. Whilst the organisation has traditionally achieved this through the publication of journals and books, it now uses all types of media to reach out to different audiences. One of the most successful ways they do this to children is through a superb range of National Geographic toys including telescopes, metal detectors and science kits.

One of the most ingenious National Geographic toys is their mini Planetarium which is produced by science toy specialist, Trends UK. This product teaches young astrologers all about the universe by projecting stars and constellations onto the ceiling.
For budding biologists, there are a range of excellent models of the human body - and chemists will love the crystal growing kit which is one of The National Geographic's most popular toys. Whilst some of the organisation's products have been criticised for their build quality, if you're looking for products that will help inspire your child to take an active interest in the world around them, you need look no further than the wonderful range of National Geographic toys!
DISTRIBUTORS
RECOMMENDED RETAILERS

Amazon
The world's most famous online retailer sells an unparalleled selection of toys.
Buy National Geographic toys now >>