Bladez Toyz
Backed by entrepreneur and TV Dragon Peter Jones, Bladez Toyz is a relative newcomer to the toy industry having been created in 2006. With modern design and innovation, Bladez ranges of radio controlled vehicles that began with indoor helicopters, is constantly refreshed with newer models and range extensions.
Bladez Pump & Play cars appeal to a mass audience of younger children. Supplied with a pump to inflate the super strong body shell, the jumbo sized cars with child friendly radio control units made them easy for young children to operate. As well as being tough, they are also furniture friendly with no hard surfaces to scratch or damage the skirtings or doors.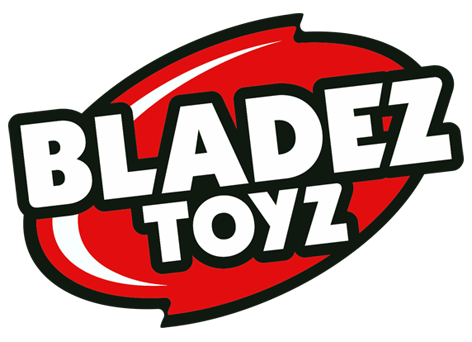 The addition of the ever popular Star Wars licence in 2012 created an amazing Bladez Pump & Play radio controlled jumbo inflatable R2-D2 model. At 65 cm tall, the globally recognised R2-D2 can withstand the rough and tough play that youngsters can dish out. Other inflatable characters including Minion from Despicable Me and the Lightning McQueen car that featured in Disney's Cars film. The future looks very bright for Bladez.
HERO PRODUCTS
LICENCES HELD BY BLADEZ TOYZ
RECOMMENDED CATEGORIES

No toy category has developed as much in recent years as the Quadcopter category.
Visit the Drones category >>

Shop for kids tablets, animatronic pets and many other electronic toys.
Visit the Electronic category >>

British toy manufacturers continue to develop many new products.
Visit the Manufacturers category >>

Helicopters and animatronic robots are a few of the RC toys in the shops.
Visit the Radio Controlled category >>