Inflatable RC Peppa Pig
No customer reviews yet. Be the first.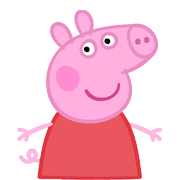 Joining Bladez range of inflatable radio controlled toys is none other than every kidís favourite character Peppa Pig! Standing a huge 46cm tall, (thatís 18Ē), the radio control receiver and batteries are cleverly concealed in the wheeled base.
Not only that, but Peppa also has well known phrases and music straight from the TV show. Easy to control with a simple hand held unit, the RC toy is perfect for all the junior fans of this lovable character.
Joining Peppa Pig in the Junior RC Inflatables range are a superb Thomas and Friends engine as well as Po from the Teletubbies. Saying Eh-Oh! and other phrases from the TV show, Po is an incredible 52cm tall with his antenna!