Star Wars Rebels Inquisitor Lightsaber
No customer reviews yet. Be the first.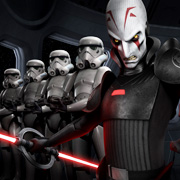 In the popular Star Wars Rebels animated series, a new Rebel villain is introduced in the guise of The Inquisitor. Like all his predecessors, his weapon of choice is a fearsome lightsaber – this time with a difference. Hasbro have recreated this awesome armament into a stunning toy called the Star Wars Rebel Inquisitor Lightsaber.
Whilst one blade can cut down the opponents with devastating effect, kids can add the second blade for over three feet of amazing twin bladed power. This incredible weapon also has an extra trick in the shape of the Force Disk that can be released for a long distance assault against the enemy.
Perfectly designed for all little Star Wars fans aged 4 and over.
RECOMMENDED RETAILERS

Amazon
The world's most famous online retailer sells an unparalleled selection of toys.
Buy the Star Wars Rebels Inquisitor Lightsaber now >>