Giddy Goat Toys
No customer reviews yet. Be the first.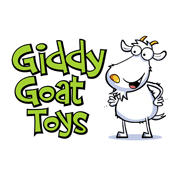 Address
2 Albert Hill Street, Didsbury, Manchester, M20 6RF
Website
https:www.giddygoattoys.co.uk
About
Giddy Goat Toys is a traditional independent children's toy shop located in the suburb of Didsbury in south Manchester. The shop is family owned and run by a team of enthusiastic and experienced staff, all of whom are parents and who take a pride in helping customers find the ideal gift or toy. This is usually based on the age and interests of the recipient as well as the customer's budget. Giddy Goat Toys' mission is to supply toys that are of high quality and which offer value for money.
Their leading brands are Djeco, Orchard Toys, Manhattan Toys, Papo and BigJigs. They also offer ranges of toys from Pintoy, Plan Toys, Interplay, Lego, Sophie the Giraffe, Klutz and Playmobil. The selection in store ranges from toys and gifts suitable from birth right through to teens, with all ages between covered. They take care to have items in all price ranges and so really do aim to have something for everyone. They make a particular effort to have an interesting range of party present lower priced gifts for the 4-9 year old group, the age when children get regular party invites.
The shop has a fun range of pocket money toys as well as a large selection of cards and gift-wrap, with a gift wrapping service offered also. This Didsbury toy shop has a user friendly website and offers delivery across the UK, accepting all major credit cards as well as PayPal. The staff are happy to offer help and advice to customers over the phone as well as to their local shop customers to help them find the perfect present.
Giddy Goat Toys is a Manchester toy shop that specialises in wooden toys.
---
Opening Times:
Monday - Saturday: 09:30 - 17:30, Sunday: 12:00 - 16:00
---
Favourite suppliers
---
Favourite licences
---
Additional facilities
---
Payment methods