Le Toy Van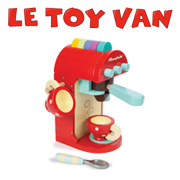 Le Toy Van started in 1995 making some of the finest wooden toys and playsets available. The company is always developing and expanding their superb ranges. Little girls absolutely adore the wonderful dolls houses, room furniture and toy figures that go with them - and with a choice of beautiful pastel colours and designs, every little girl will fall in love with them. Made in a variety of sizes to suit all budgets, Le Toy Van also make a series of vehicles such as cars and caravans to make girls play time really come to life.
Le Toy Van also makes some outstanding castles, forts, pirate ships and cowboy playsets to entertain the boys. Every item has a selection of features like working drawbridges, secret chambers or realistic cannons to enhance the role play experience. With Le Toy Van's meticulous attention to detail, all the toys are designed to be exciting and to keep the kids entertained for hours on end.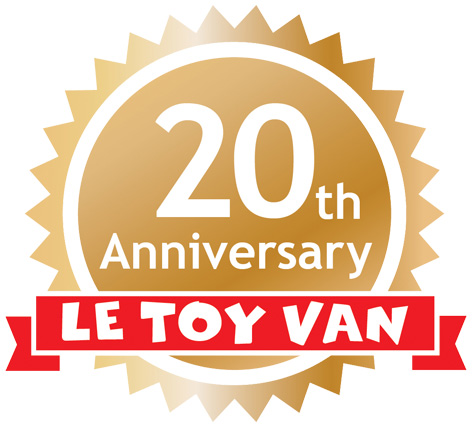 Le Toy Van garages and vehicles get the same treatment, and are available in a choice of sizes as well having a great selection of wooden vehicles like racing cars or construction site equipment. Little girls and boys both love the wooden play food which includes cakes, gateaus, ice creams and even pretend wooden ovens, mixers and toasters.
Le Toy Van also makes the Budkins range of bendy toy figures and playsets. This range is great for smaller children who are beginning to co-ordinate eyes and hands with shapes and colours. There's a superb range of vehicles to accompany the little characters including cars, tractors, police vans and even a bus.
The company has expanded the Honeybake collection of pretend food based toys every year since its introduction. With wooden ovens, stoves, a cafe machine and a kitchen sink, the wooden food sets together with aprons and utensils has been a smash hit with the girls.
HERO PRODUCTS
LICENCES HELD BY LE TOY VAN
RECOMMENDED RETAILERS

Amazon
The world's most famous online retailer sells an unparalleled selection of toys.
Buy Le Toy Van toys now >>

Fairies & Friends
A specialist online gift shop selling all manner of fairy themed toys.
Read more about Fairies & Friends >>

Giddy Goat Toys
A traditional independent toy shop with online sales of toys from popular brands.
Read more about Giddy Goat Toys >>

Little Bundles
Terrific ranges of children's engaging wooden toys and traditional games.
Read more about Little Bundles >>

Little Nut Tree Toys
A traditional and independent online toy shop offering excellent wooden toys.
Read more about Little Nut Tree Toys >>

Little Tiger Gifts
Specialises in fun high quality toys and gifts for babies and children.
Read more about Little Tiger Gifts >>

Spotty Giraffe
Wonderful online toy boutique that offers a fantastic choice of toys and gifts for all ages.
Read more about Spotty Giraffe >>
Wooden Toy Shack
Specialises in wooden toys for the under fives.
Read more about Wooden Toy Shack >>

Wooden Toy Shop
An online toy shop dedicated to the sale of traditional wooden toys.
Read more about Wooden Toy Shop >>